digiChart EHR Welcome Screen
The Global Welcome Screen in the Digichart EMR application serves as the primary interface when users first log into the system. It's designed to provide a comprehensive overview of the most critical information and functions, making it a central hub for users to navigate the system.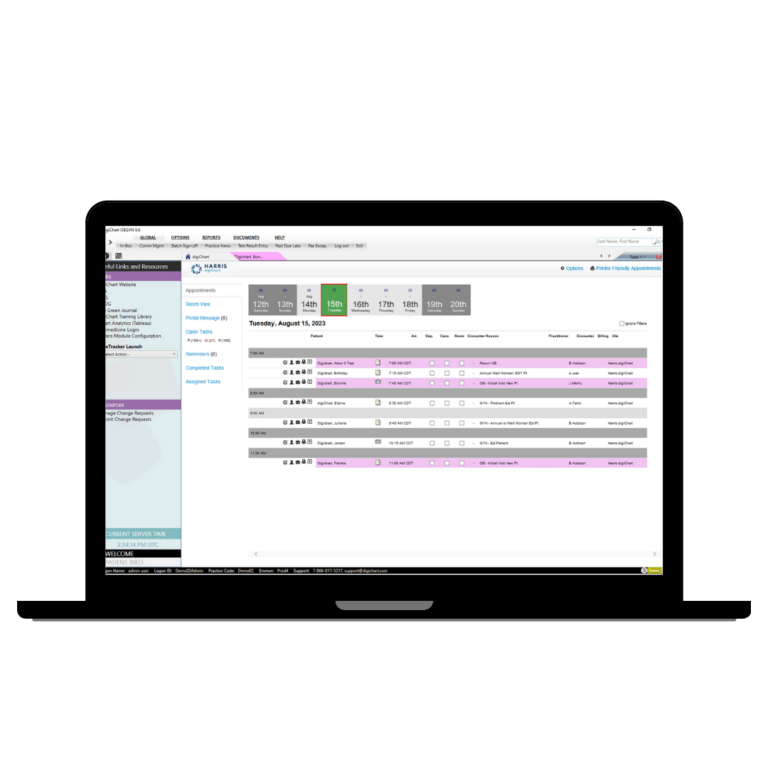 This section offers a snapshot of the patient's vital details like name, age, gender, and critical medical info for swift reference by healthcare providers.

The screen offers speedy access to applications sections like appointments, patient records, billing, and more, streamlining navigation and saving time.
It offers OB GYN practices tailored resources like best practices, research updates, and guidelines to stay current in their field.

The Global Welcome Screen can show crucial notifications and alerts, preventing important messages and tasks from being missed.

The Welcome Screen can be customized, letting users adjust layout, displayed info, and preferences to match their unique needs and workflow.
Why digiChart is
Ob-Gyns' Favorite?
digiChart empowers Dr. Kelly Shanahan to maintain her practice while traveling globally. With its Internet-based system, she can access records from anywhere, ensuring seamless patient care. Now, she enjoys a worry-free lifestyle, thanks to digiChart.
At Women Physicians Associates OB/GYN, 24x7 access for physicians isn't just convenient; it's transformative. With digiChart, late-night dictations, lost charts, and paperwork are history. Patient information flows seamlessly, making hospital time productive and leaving more room for life's pleasures: ballet, soccer, family, and friends.
Forest Women's Center switched to digiChart after 5 years with an EHR that didn't suit their specialist needs. digiChart's OB-GYN focus delivered unmatched ROI. Its SaaS architecture eliminates server costs and IT staff, ensuring secure, disaster-proof records. Besides measurable gains, 24x7 record access means providers can leave immediately after their last patient, never hearing 'Where is that chart?
digiChart has revolutionized the practice's weekly high-risk pregnancy reviews. Physicians effortlessly access updated patient charts on their tablet PCs, eliminating chart location hassles. This streamlined approach promotes meaningful discussions, cuts liability risks, and encourages innovative collaboration for better care in high-risk cases.
Tyler OB-GYN, a major practice in northeast Texas, overcame paper chart challenges with digiChart. It streamlined communication, benefiting both staff and patients with legible records and faster responses. Unexpectedly, implementing digiChart also provided better IT inventory control, resulting in annual cost savings.