Speciality EHR
The digiChart electronic health record was built for OB/GYNs
with valuable input from hundreds of practicing physicians.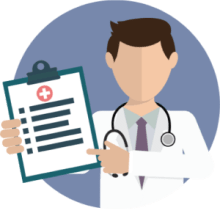 We understand the unique demands of your practice and have solutions that simplify your workflow.
DigiChart is the only EHR that mimics the workflow of the OB/GYN practice, improves
clinical decision-making and gives all providers the same level of documentation
capabilities, rules, alerts and reminders to enhance patient care.

Formatted Treatment Plans
digiChart comes equipped with dozens of formatted treatment plans covering most women's health issues to help you quickly document a visit. With medical decision-making and e-prescribing you can quickly select diagnoses, procedures, medications and education materials for each type of encounter. No templates to build – ever.

Electronic Antepartum Record
digiChart incorporates the complete Antepartum record (as developed by the American Congress of Obstetricians and Gynecologists – forms A through U), and the progress note in the EHR – meaning that data is entered once. No manual transcription needed.

digiChart's unique OB Flowsheet is an essential function for an OB Practice with lots of deliveries. The OB Flowsheet allows you to work in one screen – see all your patient information in one place. And, it's more than just a "view", it's an interactive document that allows you to enter a visit note, document an exam, include diagnosis, labs/ultrasounds, and even book return appointments without leaving the screen. The OB Flowsheet also follows the patient to labor and delivery electronically, eliminating the need for lengthy copying and faxing at this all important time.

Access data anytime, anywhere
Your EHR should be accessible whenever and wherever you need it. digiChart uses the latest cloud-computing technology so that critical patient data is available in your office, in the hospital Labor and Delivery department, or on the road. All you need is an internet connection to review patient information.

Improved efficiency
and profitability

Quality time
with patients
Easy implementation
and focused training
Contact us today to learn how digiChart's specialty EHR mimics your workflow, improves clinical decision-making, and delivers streamlined documentation capabilities that support business processes and give you more time for what you do best – patient care.
Visit Us
OUR ADDRESS
100 Winners Circle N, Suite 450, Brentwood, TN 37027
Call Us
PHONE
(866) 811-5217
When
OPENING HOURS
Monday-Friday: 7:30 AM- 5:30PM CST
Saturday-Sunday: CLOSED